Mokhtar Elareshi has been volunteering with British Cycling since 2011, and is looking forward to starting his seventh year of leading rides in Leicester.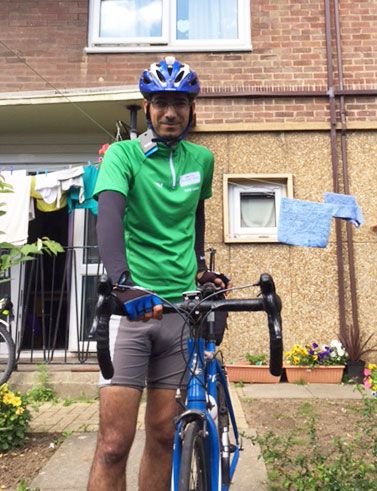 I've been cycling in Leicester for almost 10 years now, after moving here in 2008. I was one of the early generations of British Cycling Ride Leaders, and one of the great things about the role is the number of friendly, likeminded people I've met and gone on to become close friends with over the years.
I live in the St Matthews area of the city; a very multicultural area with lots of diversity. One of the great things about being a Ride Leader is that a bike ride has the unique ability to bring people together, regardless of their faith or background. I simply love cycling, and I want to encourage even more people in St Matthews to cycle too!
While I regularly see people out and about with bikes, it still seems that many aren't sure where to cycle and haven't discovered the many beautiful places to ride around the city.
Leicester has invested greatly in cycling in recent years, creating a network of cycle paths in the city which makes it much easier to navigate. Many of the routes we take on HSBC UK Guided Rides make the most of this new infrastructure and show just how accessible much of the city now is by bike.
I particularly enjoy leading The Riverside Corridor Ride. It's a really quiet route, mainly along traffic-free paths, and shows off some of the most beautiful and iconic landmarks in Leicester such as the National Space Centre and Belgrave Hall.
Then there's the Richard III ride, named after the 15th century King who was excavated from underneath a car park in the city in 2012! This ride is 33 miles long but relatively flat, and also takes in the beautiful town of Market Bosworth.
The people who come along to my rides vary in age and experience so much, from children as young as 18 months to those in their early 60s. Cycling really is for everyone, so why not come and join us on a HSBC UK Guided Ride this year too?
Click here to see what HSBC UK Guided Rides are coming up in Leicester.