Ten months ago, Wendy Hartshorne from Newport in Shropshire tragically lost her partner after a long period of illness, but found refuge in riding with HSBC UK Breeze. Through the supportive nature of riding with a group of like-minded women, Wendy found a coping mechanism to help manage her grief. She tells us her story with the hope of helping others.
My partner Ian had been ill for twelve years, and caring for him and working a full-time job meant I was leading quite a sedentary lifestyle, so I decided to start cycling at the beginning of 2017 with my sister. We hadn't cycled since we were teenagers and getting to grips with road bike saddles, gears and pedals was no mean feat, but we loved the exercise. After a couple of months of riding just the two of us, I decided to go on my first HSBC UK Breeze ride with the Newport Shropshire ladies to help build up my fitness and confidence, and from there I was hooked. Here I had found a group of ladies who loved cycling and cake! It wasn't a race, it wasn't competitive, and the support from everyone was amazing.

However, when Ian passed away a couple of months later, I thought my world would stop. The pain was horrendous, it was literally heart-breaking; the ache in my chest was intense and I couldn't sleep. Ian had passed away in our home and I found it extremely difficult dealing with the daily reminders of his last moments and suffered painful flashbacks of such a heart-breaking day.
Following Ian's death, I eventually returned to work and the routines kept me going, but mentally I was in a very dark place and I almost gave up cycling entirely. However, local Breeze Champion Di Jeggo sent me a message of support, which I still have now. It was such a simple but kind gesture from someone I'd only met once on a Breeze ride – albeit a rather eventful one to Attingham Park – but it made me realise the amazing group of women that lie at the heart of the network. It gave me the motivation I needed to get back on my bike and I am so grateful for it.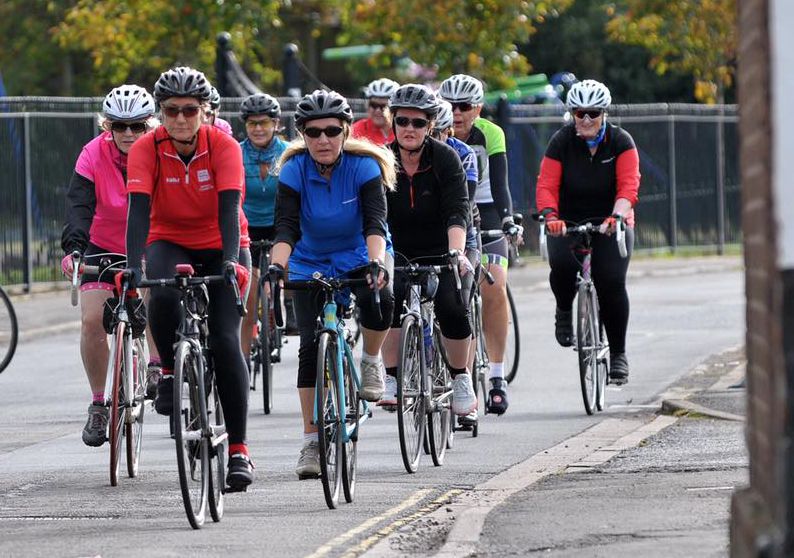 The moment I got back to riding with Breeze, the women were so supportive. They'd let me cycle in silence when I needed to, and made me laugh when I needed that too. On a ride, I could think about Ian, but in a safe environment away from the painful memories at home, all the while surrounded by a group of caring women.
Cycling, and especially with Breeze, has given me a safe place to think – or sometimes not to think. It's my time.
If it weren't for Breeze, I honestly don't think I would have got through the last ten months. The loss of a loved one is extremely difficult to bear for anyone, but the loss of Ian changed my whole life. My hopes, dreams and plans had changed forever; I suddenly found myself living alone, without someone to share things with and my future felt empty. Cycling, and especially with Breeze, has given me a safe place to think – or sometimes not to think. It's my time. On some rides, I use the time to think about Ian away from the painful memories of home and on other rides when we reach the summit of a hill or find a breath-taking view, I feel an overwhelming sense of peace and feel that Ian is with me.
For anyone looking for a way to cope, for whatever reason, I urge them to consider cycling. When life feels like it's getting a little too much, seek solace in the space, freedom and fresh air of a bike ride – just free your mind and enjoy the ride.
I still grieve for Ian and I know I always will. The loneliness is the hardest thing to deal with, and this is where Breeze has saved my life; it has given me a happy place, both physically and mentally, and every time I arrive home after each ride, I feel refreshed, renewed and at peace.