Breeze Champion Liz Evans takes on the Hemel Hillbuster sportive on Sunday, the first of our 11 great sportives for women in 2017. This week we caught up with Liz to find out more about her training.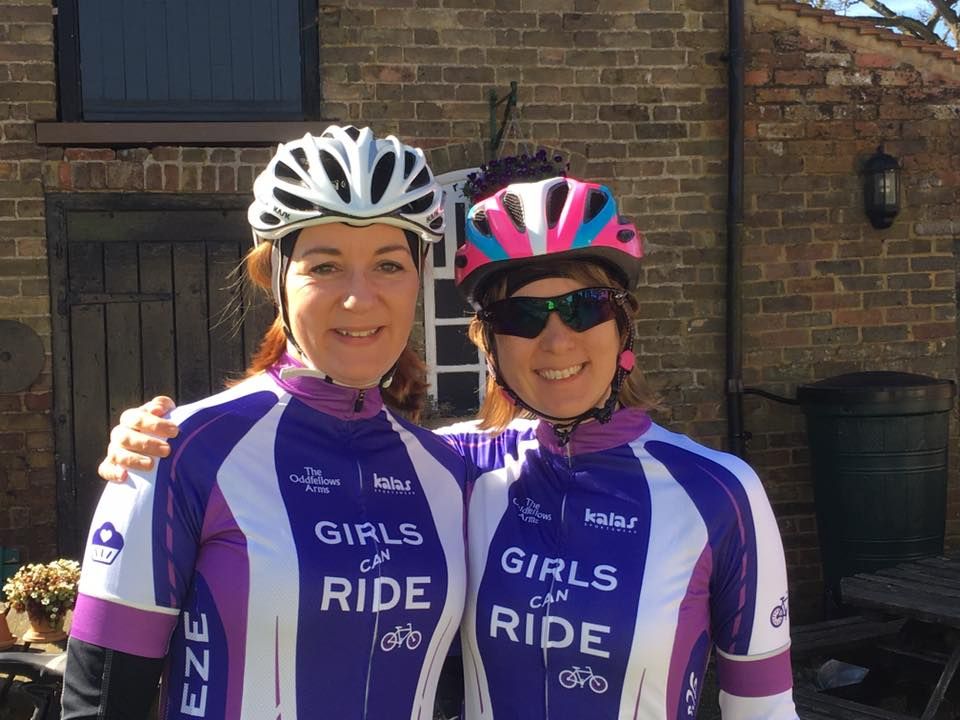 My name is Liz Evans (left) and this year I'm training for the 60km route of the Hemel Hillbuster.
The event is now in its second year, with the route taking in plenty of lovely Hertfordshire countryside and a handful of killer hills too!
Having trained as a Breeze Champion two years ago, I now run weekly beginner/intermediate rides on Friday mornings and offer longer rides at the weekend. Recently I've started doing some early morning hill training sessions, and as the evenings have started to get lighter I've been running evening rides too in preparation for the sportive.
Our rides vary in difficulty, progressing from Mellow Yellows to Graceful Greens, to Blazing Blues and Pacey Purples.
I will be joined on the day by a few other ladies from the Hemel Hempstead group. We've been training together regularly, and doing our best to overcome our fear of those hills! I'm sure they'll all go on to surprise themselves on the day, whichever route they decide to take part in.
Here's a quick summary of the rides we've been doing to prepare for the event, starting at the end of February.
Sunday 26 February
Today the Blazing Blues started training for the sportive by completing a 25 mile route that took us around the first half of the 60km Hillbuster route. We found a lovely new cafe stop at Heirloom in Eddlesborough which was fab for a rest before we continued back through Ashridge, conquering Ivinghoe Beacon along the way. The weather was pretty grey and gloomy but that didn't dampen our spirits.
Friday 10 March
Today we cycled parts of the 25km Hillbuster route in preparation for our practice ride of the full route on Sunday. The weather was ok and we had a nice cafe break at the Bridgwater Arms in Little Gaddesdon. A real mix of capabilities today, so we split the group slightly. I led the faster ladies and Tracey led the slower paced pack.
Sunday 12 March
It was raining at the start today, but that didn't put the girls off this full practice of the 25km route. My assistant Laura led the faster ladies while I cycled at the back with a new lady that hadn't quite anticipated the amount of hills there would be. Some ladies took a slight detour home, while the rest of us completed the whole route. Very impressed with the sheer grit and determination of these ladies in really wet and miserable conditions.
Friday 24 March
Today was a gentle Graceful Greens Red Nose Day ride taking in a few new hills, rather than ones on the actual route. Today was all about Embrace the Cake, a new cafe stop that serves healthy whole food cakes with no refined sugar, dairy or gluten. They were absolutely delicious and Beckie and her team made us feel really welcome.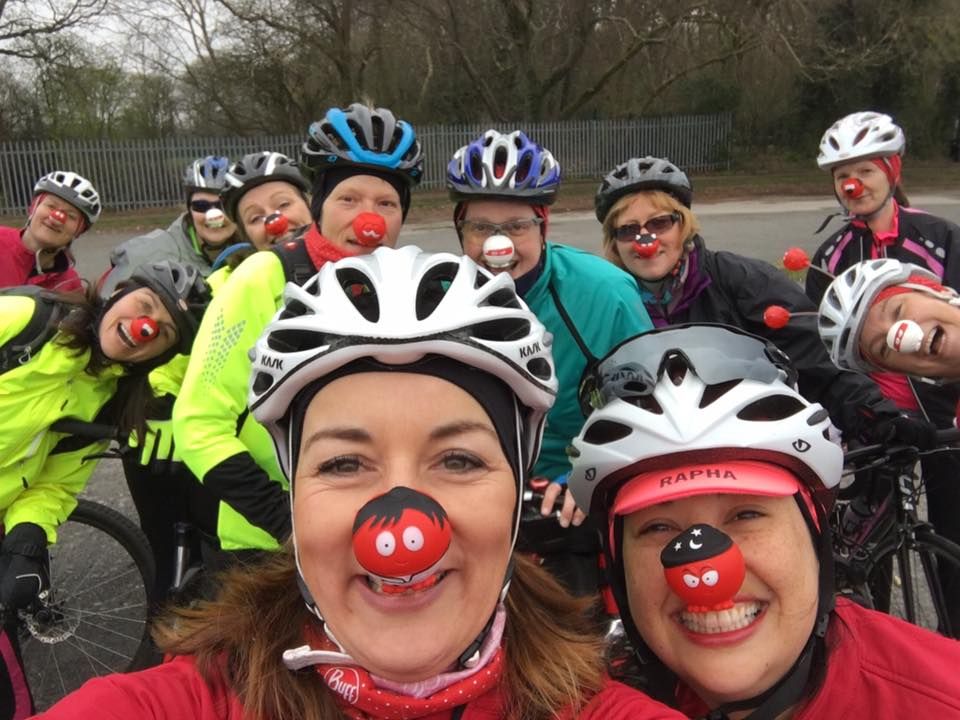 Sunday 26 March
Today we did the second half of the 60km route through Aldbury, Wiggington and Cholesbury, with a couple of really steep killer hills in Chesham and Leyhill. Despite only having a small group of Blazing Blues it was a nice quick pace and the sun was shining all the way, which made for a perfect morning.
Sunday 2 April
This morning I put on a quick one hour hill session, offering a great chance to practice a few different climbing techniques to find out what suited us all best.
Friday 7 April
Today looked like the start of spring; the sun was out and it was an absolute joy to be riding in a nice small group with seven ladies. We were even sporting our new Pacey Purple jerseys! A fun ride of 21 miles averaging 11.4 mph with and elevation gain of 951ft.
Sunday 9 April
This was an especially hilly Green ride, but all good training for the Hillbuster event. It was a beautiful warm sunny day. The sleeves were off and the sunburn was inevitable! We had a big group of 14 ladies, with lots of different abilities. Everyone kept plodding up those hills at their own pace and I don't think anybody got off and walked!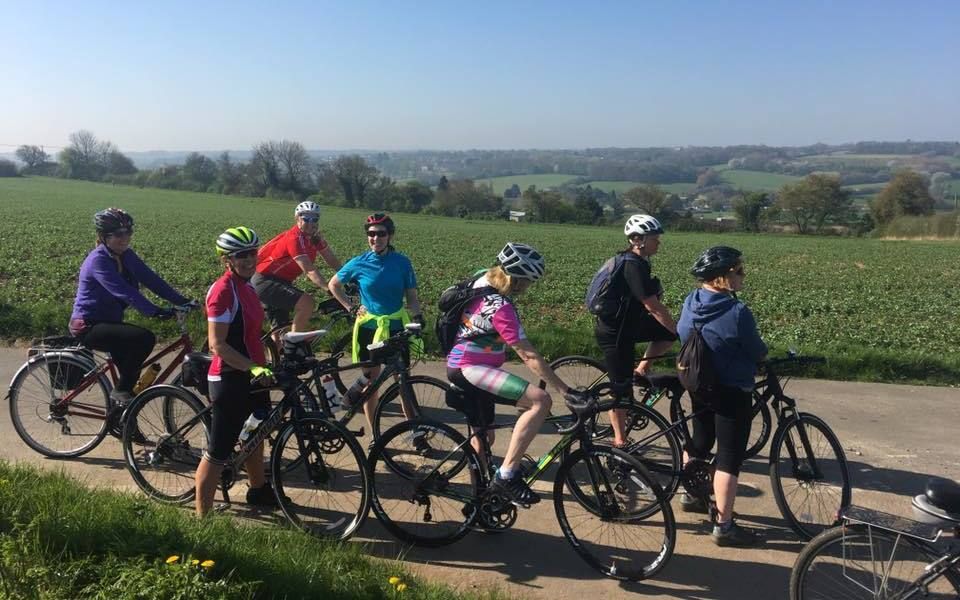 Friday 14 April
We had a huge group of 16 ladies for our Good Friday ride, so we split into a fast and a slow group to try and cater for all the different abilities. As it turned out everyone wanted to go fast today. I think it was the thought of a chocolate filled weekend that was spurring them on.
When we reached our cafe stop I indulged everyone's chocolate cravings by dishing out some Easter Eggs. They'd burned off the calories on the hills, so at least it was a calorie neutral ride!
Monday 17 April
This is our last hill training session before the event. The eight of us in attendance rode in two pods along some flat sections, taking it a little steadier up the two hills. We certainly enjoyed the wind in our hair on the two big descents!
I think we are all ready for the event now and have certainly been putting in enough hill practice to get us round our chosen route.
I've found that training with a group of ladies has given us all the motivation we needed to step up to the challenge. Lots of the ladies wouldn't have even considered entering an event – especially with the word 'hills' in the title – 3 months ago. Now they're going to be doing the 25 or the 60km, and some are even going for the 100km!
I keep telling them that 25km may sound a lot, but in reality its only 15 miles which we do regularly on a Friday or Sunday ride. When I did the 60km last year that was the first time I'd ever ridden over 25 miles, but what's another 10 when you're enjoying the beautiful countryside ?
And 100Km? Well who knows what that feels like, as I'm still not brave enough to do it! There's always next year…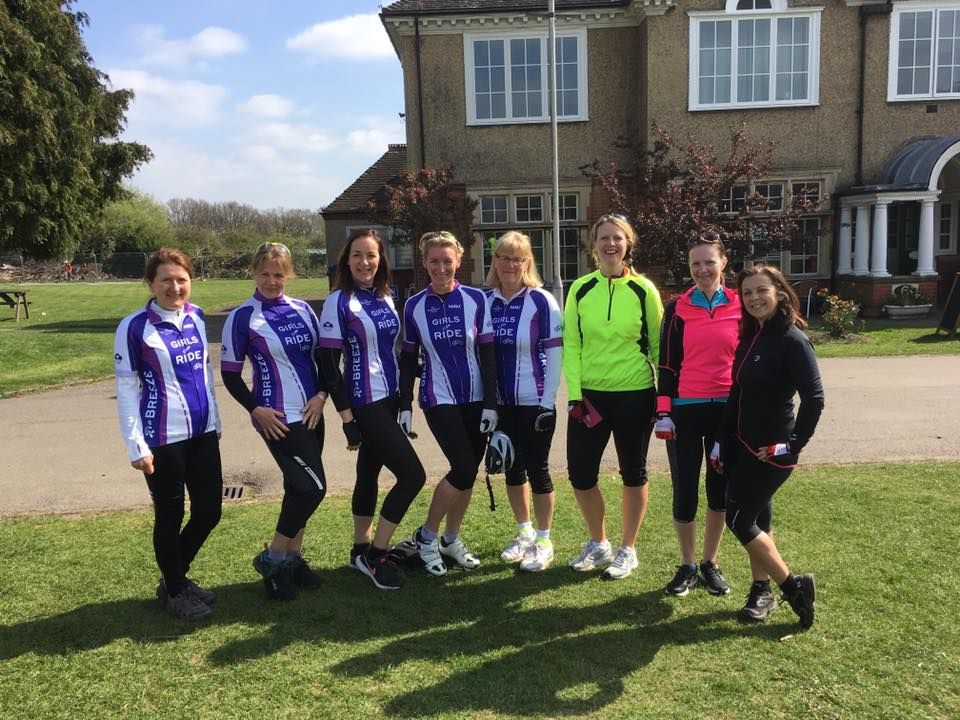 If you want to cycle further in 2017, take a look at our great sportives for women.
For more expert tips, advice, articles and videos, visit the British Cycling Insight Zone.