Ever thought about getting into Women's racing but been too nervous about starting out? I wrote this to show you that if I can enter a race and take part, then anyone can!
About me
I'm Hannah Quay, I'm a 40-something, overweight, out of shape mum of two kids (aged 9 and 13), both of whom have various additional needs. By day, I home school the 13-year-old and by night I become their taxi driver to numerous music and sporting activities.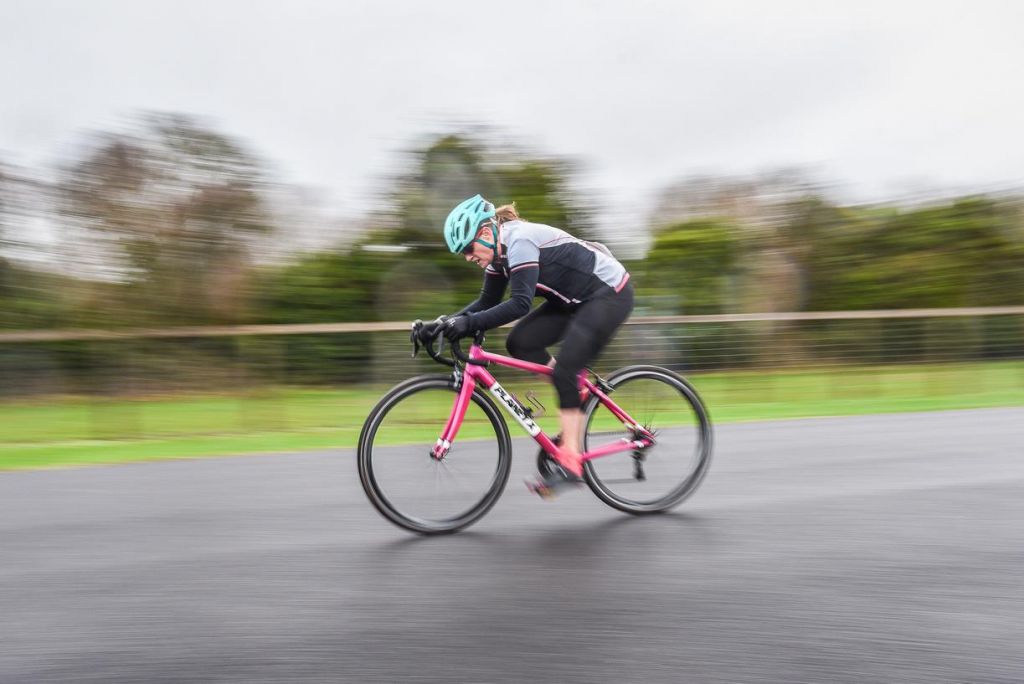 Credit: www.stuartlessels.co.uk
The Race and Venue
I picked a series of races based at Odd Down Cycle Circuit. There are eight races over the winter months. The main attraction was a separate category 4 race for women. This is the entry-level category for racing; as you accumulate points, you can move up to 3rd category, 2nd category etc.
The cycle circuit is closed to traffic, is about a mile in length and wide enough for at least 10 cyclists to ride side by side.
Facility wise, there are changing rooms, a café, free parking and warmth!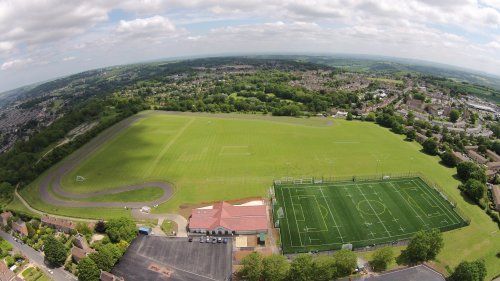 Credit: better.org.uk
My Kit
I have always worried that my kit is too basic for racing.
Today, I rode my Planet X Pro-Carbon bike that cost hundreds rather than thousands of pounds. I haven't upgraded or modified any of the equipment it came with, so no fancy carbon racing wheels or carbon extras, just a straight, out of the box bike. I rode in my Decathlon finest clothing; bib shorts and jersey, a pair of ¾ length running leggings from Sainsbury's and some Ron Hill running gloves. It all did exactly what it was meant to do; keep me clothed.
My Training
I try and ride outside once during the week; the 13yr old and I ride out to our favourite bike café, have cake and ride home which gives me 25 miles on the bike.
I try and do two or three Zwift sessions as well. If time allows, I try and get a weekend ride outside. I have a membership with my children's cycling club, but I don't ride for anyone or train with anyone other than a few thousand people on Zwift!
I would recommend some group riding/training before a race, given the closeness of riders in racing.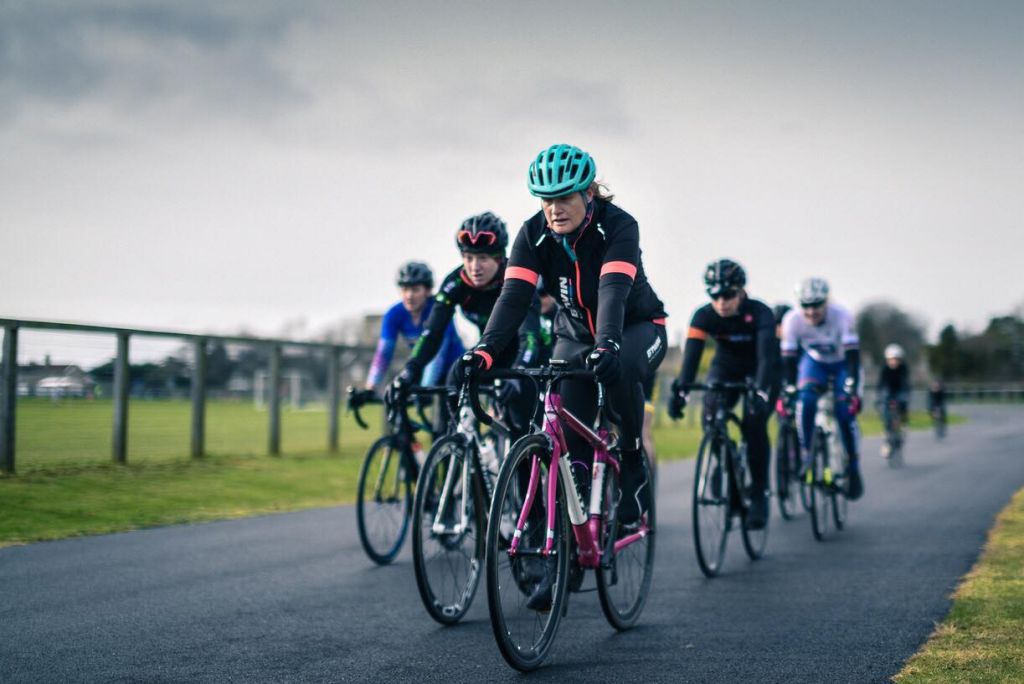 Credit: www.stuartlessels.co.uk
How did I get into cycling?
When I was half my current age I did a lot of triathlons. I had time to train back then, as a student and then with my job. We then moved abroad to a country where six months of the year, the snow doesn't allow for outdoor biking. Plus I had just had a baby, so I barely did much exercise.
I spent most of my 30's not being very active; I tried to run to keep fit, but I either got ill or injured so I just plodded. Then last January, the 13-year-old joined a cycling club and I got envious! So, I entered the Ride London 100 mile sportive on a (very) mad whim and got training.
I'm not fast but I rode round in six hours and loved it. I'm doing another 100 miles next year!
The Actual Race
I lined up with 16 other women, some of whom were half my age, in the wind and the rain of Odd Down. We had a race briefing and then a neutralised lap; this is where you ride behind a non-competitor for about a lap and then you start racing.
It was very wet on the ground and I'm not confident in the wet. I rode steadily but found my concentration lacking as I thought about GCSE exam form deadlines … and I promptly missed the breakaway! Another girl and I worked together for a few laps before my concentration went again and she got away.
I was now on my own in fierce headwinds, so I just pedalled and pedalled. With three laps to go, I knew I was safe in my position, but riding on my own was taking its toll, so I just dug in, grunted a bit and carried on.
The chequered flag signalled the end of my race; I had finished 10th.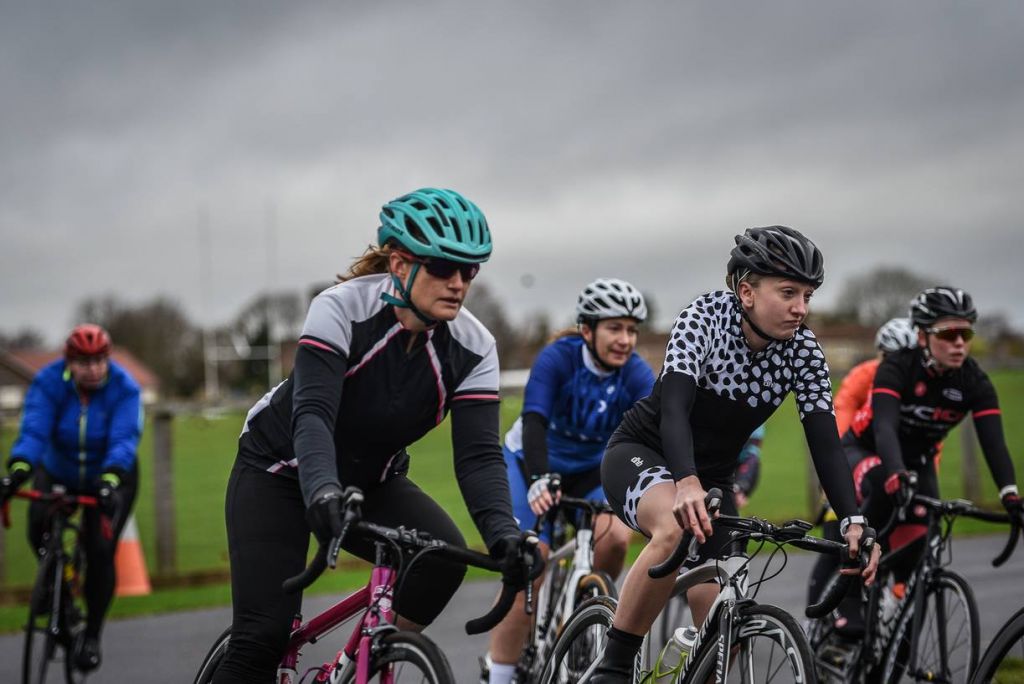 Credit: www.stuartlessels.co.uk
What next?
I will sign up for the next one and over the course of the week, I will try and work on my concentration levels.
Should you race?
Yes, the other competitors were very friendly, the Race Organisers and all their volunteers were very helpful and chatty. It doesn't matter if you come last or at the middle of the pack, it's all about learning how to improve the next time, but mostly, it's about trying something new and enjoying it.
Hannah Quay is currently racing and hoping to get into the next catergory.
She'll be back with us at the end of the season to let us know how she got on!
If you want to get into racing at any level visit www.britishcycling.org.uk/womenscycling