1. Make cycling-themed decorations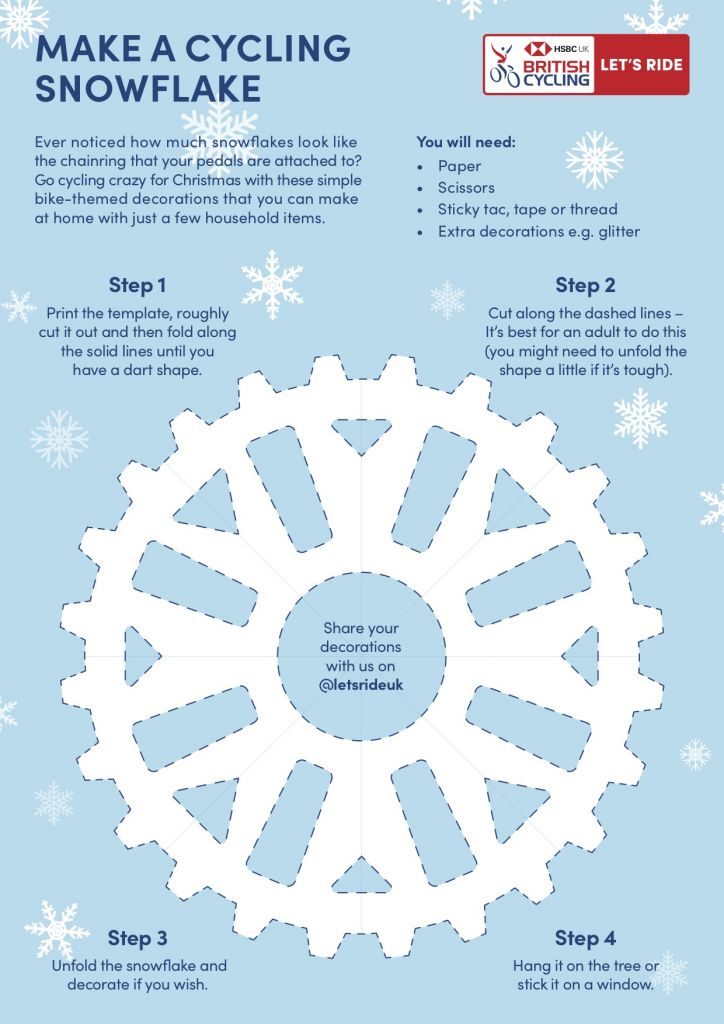 This could be as simple as making your own bike-themed baubles from circles of card and pieces of thread through to getting more creative and creating a chain of sprocket snowflakes. We've got a template for you to use along with simple instructions.
2. Design your dream bike
Visit the HSBC UK Ready Set Ride website and have a play on the Make my dream bike tool. Remember that you will need to register first (it's free!).
3. Go on a festive fancy dress ride
Whether it's on the last day of school before Christmas or right in the middle of the holidays, why not dress up in Christmas clothing for a family ride? Dressing up can make the idea of a ride sound more fun to some – plus you will put a smile on the faces of any passers-by. Simply stick on some tinsel, wear your best Christmas jumper and pedal with pride.
4. Make tyre tracks in the snow
The weather will need to be on your side for this one (and you will need to wrap up warm), but cycling in the snow is great fun and you can create giant pictures and patterns with the tracks your tyres leave behind.
5. Make time for little learners
If you have family coming to stay with young children, help them to take the first steps in learning to ride a bike with free, fun games from HSBC UK Ready Set Ride. You don't need a bike to get started, but if any of the children in your family have had a new bike for Christmas there are lots of games waiting for them.
6. Deliver Christmas cards by bike
Make the most of a walk around the neighbourhood delivering cards by heading out on the bikes – or encourage your child to scoot along on their balance bike. The neighbours will be glad to see your helpful little elf and it's a great excuse to get some fresh air.