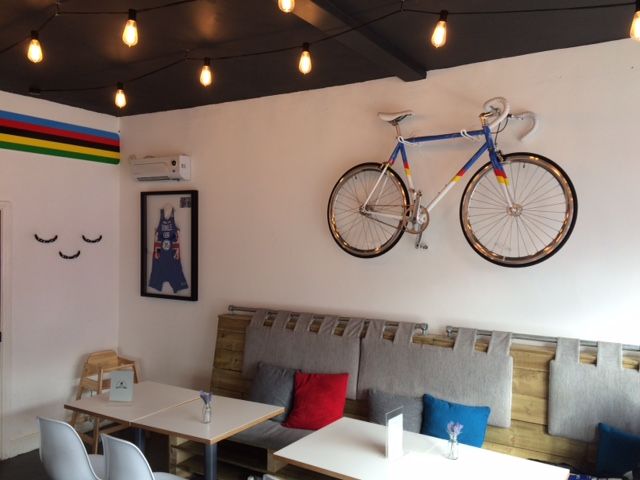 Gorilla Coffee is a premium bicycle café locates in the heart of King's Heath. We caught up with owner James Connolly to find out more.
Tell us a bit about Gorilla Coffee...
My business partner Stacey Jarvis and I set up Gorilla Coffee just over a year ago. I'm a triathlete so spend a lot of hours in the saddle and understand the importance of a good refuelling stop; I was shocked at how few cafes were geared up for cyclists. We spotted an opportunity and went for it.
Gorilla Coffee incorporates a licenced café, cycle repair workshop and event space. We're so pleased to currently be ranked on Trip Advisor as the number one coffee shop in Birmingham. We've tried to create a club-house feel, and several cycling and running clubs use us as a base. Sunday mornings are packed to the rafters with an eclectic mix of cyclists. The atmosphere is always fantastic, as cyclists chat with other like-minded people while they fuel-up before a ride.
What else have you got going on?
Lots! We have such a diverse range of customer and we try our best to appeal women and families too, rather than just the traditional MAMILs. Recently, we offered a series of free women-only bike maintenance classes, and more than 40 women joined us to pick up some essential tips and tricks. We also support a local women's centre who offer valuable support and guidance to vulnerable women across the city. We've even reconditioned donated bikes and given them to the centre to offer their service users some more independence.
Gorilla Coffee is a celebration of Stacey's and my three main loves: coffee, bikes and beer! We have a carefully selected range of beers from across the world – which are a real hit after a thirsty ride! We also have a big screen in the café that shows all the major bike races. We're already enjoying the Giro and we can't wait until the Tour de France hits our screens.
If we were planning a ride from Gorilla Coffee, where would you suggest we go?
Birmingham is a great place to ride. It's got mile after mile of beautifully regenerated traffic-free canal network, and within ten minutes of our place you can find yourself in countryside with some really beautiful views. I have a favourite route that uses very low traffic roads from Birmingham to Meriden then across to Henley-in-Arden and back to the shop – a challenging, but rewarding 50 miles or so. For something a little more easy-going, the five-mile route to Brindley Place in the city centre uses the traffic-free canal network and is perfect for a family ride with the kids.
Quick-fire round
Favourite cyclist: Eddy Merckx, greatest cyclist ever.
Favourite coffee: I like a cappuccino in the morning, but stick to the macchiatos in the afternoon.
Mountain bike or road bike: roadie every time!