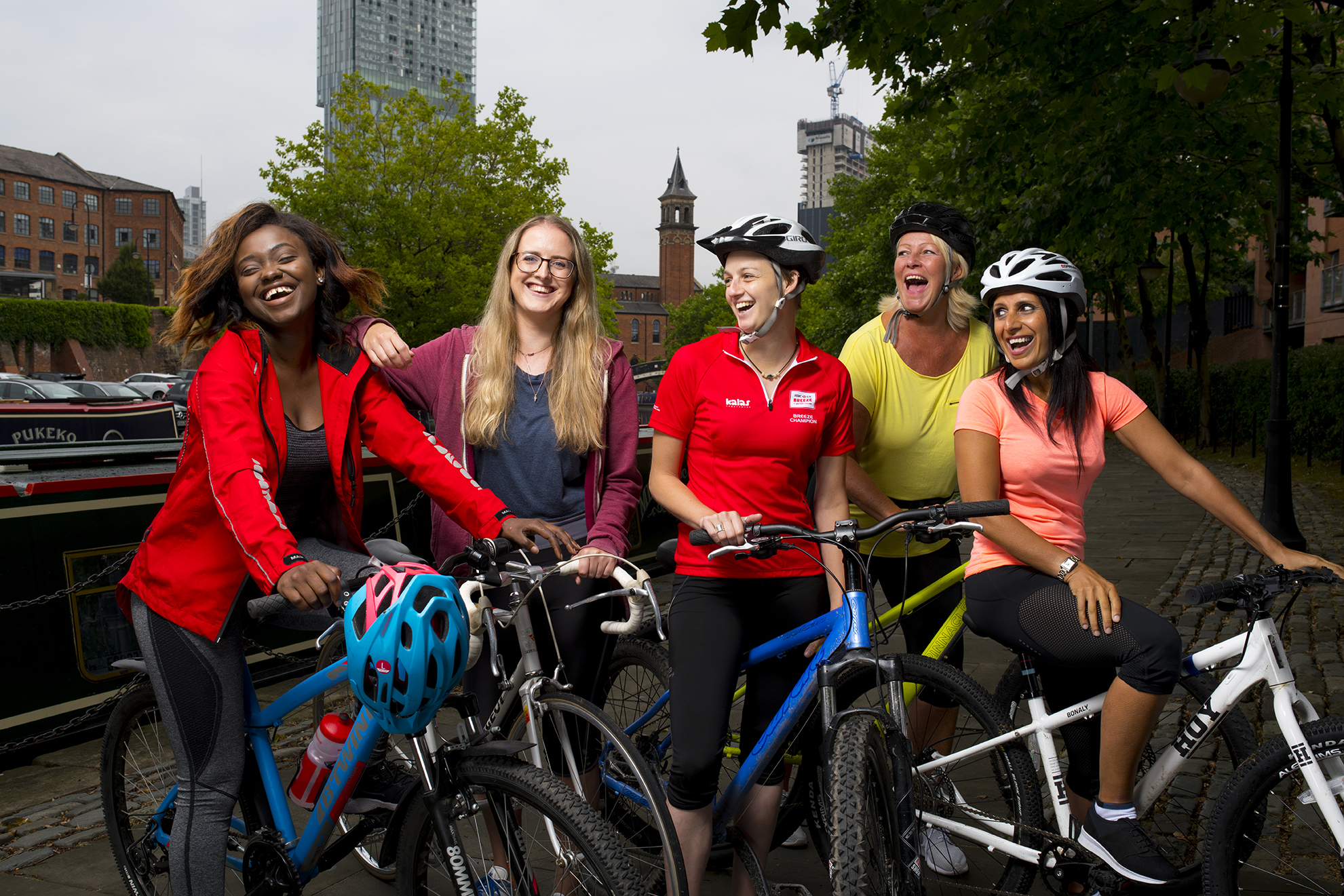 If you're thinking about joining us on an HSBC UK Breeze ride, you may have a few questions. We know it can be a bit scary trying something new, so we've tried to answer all the things you might be curious about.

Will I be able to keep up?
Yes! Our rides are grouped into three categories: easygoing, steady and challenging. Choose the one which seems to best fit you, and once you've found a ride you like, read the ride description to get more detail about what's involved. Rides go at the speed of the slowest rider, and our friendly Breeze Champions will make sure nobody is left behind.
What if my bike isn't the greatest?
As long as it's roadworthy, you'll be fine! You certainly don't need to have a flashy or expensive bike – just make sure the gears and brakes work properly, and the tyres are pumped up (your local bike shop will be happy to help). Check the ride description first for an indication of whether the route will suit your type of bike. The Breeze Champion leading the ride will run through a quick check before the ride and help you out if you're worried about anything.
Can I bring kids on an HSBC UK Breeze ride?
In many cases, yes! Rides are created by our volunteer Breeze Champions, and they indicate whether the ride is open to children. To find rides which are suitable for youngsters, filter your search to show 'HSBC UK Breeze' rides, and tick the appropriate age range under 'suitable for'. Kids riding with you must wear helmets.
What do I wear?
Whatever you feel comfortable in! You don't need to have 'all the gear'. Comfortable shoes, a helmet (especially if the ride details indicate this is a must) and some layers are all a good idea. Kids must wear a helmet.
What do I need to bring?
Bring your bike! Also something to drink along the way, and perhaps some money for a coffee. A few supplies could be handy if you get a puncture: a spare inner tube or puncture repair kit, and a pump (but don't worry if it's your first time). See above for what to wear.
Will everyone else know each other?
Probably not. More than 80% of our riders are women who come along to HSBC UK Breeze rides on their own, and then meet people along the way. Rides are very sociable, and there's always plenty of time to chat, so they're ideal if you've moved to a new area, if you're trying to meet new people, or if you just want to try a new activity.
What if I get a puncture?
It happens to us all sometimes! But don't worry, you won't be abandoned. Our Breeze Champions aren't bike mechanics, but they'll give you a hand, and if you've brought a spare inner tube or a puncture repair kit, you should be up and running again in no time (and if you haven't, chances are somebody will have something you can borrow).
I've not been on my bike for years, where on earth do I start?
Don't panic! Find somewhere off the road, like a park, or an empty car park, and have a practice on your bike so you feel a bit more comfortable stopping, starting, turning, and using the gears. If you think you need a bit of a helping hand, many local authorities run free or cheap cycle training sessions for adults.
Do I need to be confident riding on the road?
If you feel ready to ride on the road, you could try searching for a ride that makes the most of off-road trails or traffic-free places like parks. It's a great way to build your confidence.
Who do I contact if I need to ask something?
If it's about a particular ride, contact your friendly Breeze Champion. Every ride has details of the Champions who have organised it, and who will be there to lead it on the day. If you click their name you can find out more about them and then click 'send buddy request' to send them a message. Or, register for the ride and you'll be able to take part in a conversation with others who are coming along – including the Champions.
Do I need to book my place before turning up?
Yes please! We'd love it if you'd register your place in advance through the website. It helps our Breeze Champions to know who's coming on the day and plan accordingly. It's free and easy to register too – if you haven't created an account on the site before, you'll just need to give us a few details first.

Any other questions? Drop us a line by emailing [email protected].