British Cycling's Women's Project Manager, Becki Morris, is delighted that the double Olympic champion has committed to helping get even more women into cycling for fun and fitness.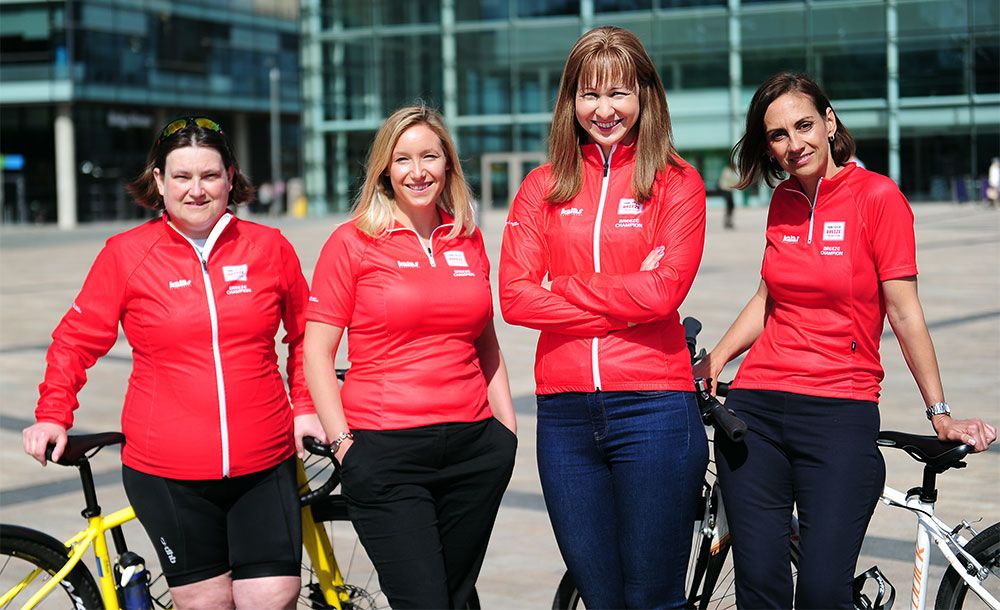 The success of HSBC UK Breeze, the biggest programme ever to get more women riding bikes for fun and fitness, is built on the enthusiasm and commitment of its volunteers, our famous Breeze Champions.
In the last few weeks I've been delighted to welcome one of our newest volunteers, a quite different kind of champion. Joanna Rowsell Shand MBE is a double Olympic and multiple world champion, part of the hugely successful Great Britain team pursuit quartet that scooped gold medals, won plaudits and left world records in their wake at both the London and Rio games. Having shouted myself hoarse in front of the TV many times as Jo raced to victory, it's a proud moment for me to welcome her to the Breeze family.
Jo, who recently retired from competitive cycling, isn't just acting as an ambassador to help us raise the profile of HSBC UK Breeze. She'd already enrolled for training as a Breeze Champion, completely unprompted by us. Back in May she took part in the same one day training course that all our Champions must pass, and freshly qualified, has already got several successful rides under her belt.
"I'm thrilled to have recently become a Breeze Champion and to be able to act as an ambassador for what is a truly fantastic initiative," Jo says. "I've spent my life training and competing in the velodrome, but now, having retired, I have rediscovered the joy of riding my bike for leisure, for fun, and I know this is a passion I share with thousands of other women across the country."
How amazing is it that any women who just fancy giving cycling a go can register for free and join Jo on one of her rides? And just because Jo's got an impressive bit of cycling form, there's no need to worry about being able to keep up, either. All HSBC UK Breeze rides are super-welcoming and friendly, and nobody gets left behind.
As Jo says: "Creating an atmosphere in which all of these women feel comfortable, welcomed and encouraged is so important, and HSBC UK Breeze is clearly doing great work in this area. I recently led my first HSBC UK Breeze ride, and I am looking forward to organising many more and meeting great people along the way."
So a big welcome to Jo, and many thanks for supporting our work! And if you're reading this and feel like heading out on one of our rides (Olympic champion optional), just pop your postcode in at the top of the page and start your HSBC UK Breeze journey…